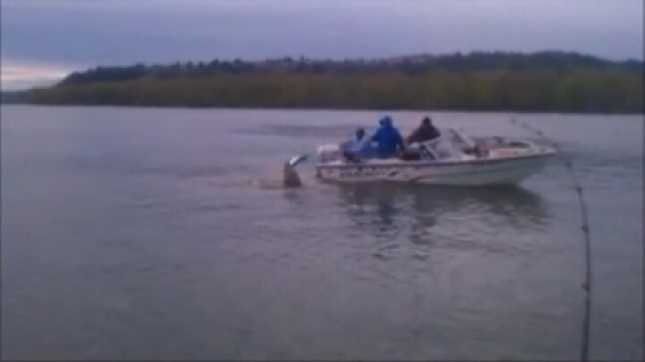 PORTLAND, OR (KPTV) -
Salmon fishermen on the Columbia River survived a frightening encounter with a sea lion over the weekend.
FOX 12 viewer Greg James shared video of some of his co-workers fishing on Friday.
They netted a wild Chinook salmon, and were getting ready to release it back into the river, when a sea lion came out of nowhere and grabbed the net and the fish.
The sea lion nearly pulled the man holding the net into the water. Eventually, the net snapped in pieces, and the sea lion swam away with the fish.
RAW VIDEO: Fisherman nearly yanked overboard by sea lion

Earlier this month, two salmon-eating California sea lions were captured and killed by lethal injection at the Bonneville Dam. A federal judge ruled the deaths could continue earlier this year.
The killings are limited to California sea lions documented as targeting spring Chinook salmon or steelhead near Bonneville, which is the first dam the returning fish encounter when returning to the Columbia River.
Copyright 2012 KPTV (Meredith Corporation). All rights reserved.